Update: May 29, 2003. A few photos from this reunion can be viewed HERE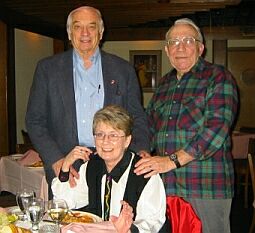 Hello Welch High School Alumni,
This is a photo of three WHS Alums having lunch March ll, 2003 in Baltimore.
We had such a good time that we decided to plan a Mini Reunion lunch for the Grads who live in and around Maryland. The tentative date is May 21, 2003, at the Turf Valley Country Club located on Route 40 in Ellicott City, Maryland and easily accessible from Interstate 70. Attendees will order directly from the menu (around 12 noon) and be responsible for their own lunch tab. Feel free to bring a guest.
We have already contacted several other alumni and they all are very enthused about attending a luncheon.
If you are interested in joining us, please contact one of us by phone or E-Mail:

Donnie (Collins) Skuja (WHS '61) 410-549-7190 dskuja02@sprynet.com

Dan Zaccagnini (WHS '50) 410 321-0485 dan.zaccagnini@mindspring.com

Bill Parris (WHS '49) 410-560-1321 parris1412@aol.com
Let one of us know and we will send detailed directions, times and any additional information you may need about this gathering.

Please feel free to share this news with other WHS Alumni or send us their contact information so we can tell them about the luncheon.


Sincerely,


Donnie, Zack, and Bill


---

Turf Valley's casual eatery, The Terrace On The Green, provides the perfect atmosphere for a relaxing snack after a great round of golf, or for a casual business luncheon. The Terrace On The Green is open Monday through Sunday. Lunch is served from 11:00 a.m.; dinner from 5:00 p.m. until 10:00 p.m. Enjoy overstuffed sandwiches, grilled burgers or chicken, fresh salads, gourmet pizza, delicious Buffalo wings, stuffed potato skins and much more! The bar opens at 11:00 a.m.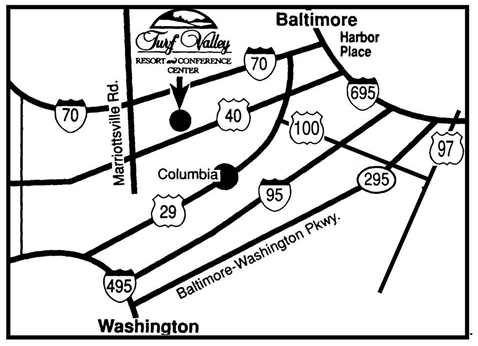 Turf Valley Resort & Conference Center
2700 Turf Valley Road
Ellicott City, Maryland United States 21044
410-465-1500
http://www.turfvalley.com
From Baltimore: Take I-695 to exit 16 (I-70 West toward Frederick). Follow I-70 to exit 83 (Marriottsville Rd.). At the stop sign turn left onto Marriottsville Rd. At the first traffic light, turn left onto Route 40. Go 7/10 mile and turn left onto Turf Valley Rd. Turf Valley's entrance will be on your left.
From Frederick: Take I-70 east towards Baltimore. Take Exit 82 - Ellicott City / 40 East. Go through one stop light. Continue Approximately 7/10 of a mile and turn left onto Turf Valley Road
From Annapolis: Take your shortest route to I-695 and use the Baltimore directions to Turf Valley.