WELCH HIGH SCHOOL
SENSATIONAL SIXTIES REUNION

"Memories of Days Gone By"

Students who attended WHS in the sixties had their second reunion June 21-22, 2002. Over 200 former WHS pupils, faculty members, and their guests attended this event. This, of course, resulted in a lot of picture taking, many of which are presented on the following pages; be patient and give them time to load on your screen. (I had to select the refresh option several times to get all the pictures to display; however, you may not run into this problem.) These pages are best viewed with your monitor resolution set at 800x600. If you don't know what that means, don't worry about it, you will still be able to see the pictures; you just may have to scroll across the page to see all of them.

Thanks to all of you who submitted your photos to be shared. Please don't be upset if your "favorite" shot didn't make the cut. On the other hand, you may see the same face several times simply because the person appears in several different group photos. The intent is to portray how much fun we all had and to provide at least one shot of each classmate who attended.

Buckle in; you're going to be here a long time....lots of photos, lots of memories to share. We had a great time! If you simply don't have time to wade through all these pictures, try using the following to find a specific person:

Also, the entire weekend was captured on videotape. To purchase a copy of the video, send $25 to Carlisle Chewning at Box 66, Welch, WV 24801 - phone # 304-436-2849 or email at carlislec@frontiernet.net.

For those of you who couldn't be with us, you missed a lot, and were missed a lot as well.

---

Some of the out-of-town folks who got to Welch a few days early for the 2002 reunion visited a few of the local sights: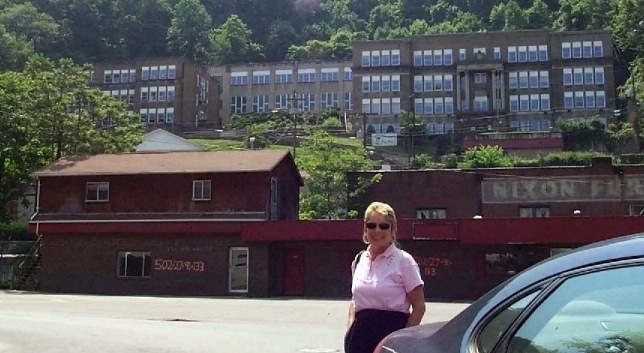 Patty Sabo Miebach, class of '61, stopped by to pay her respects to our dear school On the Hill.
(The Tic Toc Grill building was torn down the week following our reunion.)
---
Dee Santos Qualls, class of '61, drove all the way from Florida just to stop at the Sterling for one of their 'dogs & some fries. We're glad she decided to stick around for the reunion!

Dee & Patty Sabo Miebach came to the reunion committee's rescue on Friday when help was needed stuffing the goodie bags. Their pitching in to help provided enough time for some of us to go to the Sterling later that night. Thanks, ladies!
---
And, here are "some of us":
Mary Larkin Faulds '67, Rhonda Lane Goad '69, and Donnie Collins Skuja '61
(Ya'll NEED to know that Mary wears toe rings...and they are so cute! Rhonda's husband, David, played oldies R&R on the radio on the drive from Bluefield to Welch and just pretended we were his "patients out on an evening pass" gyrating to the beat as we rode through Northfork, Keystone, Kimball, & downtown Welch! )
---
On Friday night several other students were found stuffin' face at the Sterling and finding old friends:


Priscilla Phillips Dean '61, David & Rhonda '69 Lane Goad
(David is the reunion committee's Knight in Shining Armor.
Thanks a million for all your help!)


Barbara & Roy Morgan, '69
(A big thanks to Roy for helping us find several of the
"oldies" photos for our name tags.)
---
Photos on this and the following pages were provided by:
Sandy & Elinor Turner Bright, Dee Santos Qualls, Connie & Carol Turner Collins, Brenda Conn Norwood, Rhonda Lane Goad, Mike Stater,Lea Wyatt Bonner, Susie Phillips White, Carol Eggers Barrett, Libby Rakes Emler, Virginia Swope, & Donnie Collins Skuja

Please click HERE to report name/school year corrections on this and any of the following pages.

Next Page
(If you want to jump back and forth between these picture pages, try utilizing the right click function of
Open In New Window.)

If you dare compare, pictures from the last Sensational Sixties Reunion can be viewed HERE